4 Window Cleaning Tips To Give Your Windows A Brand New Look!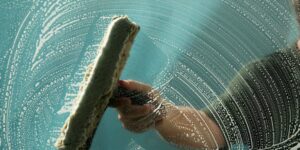 You got your new single or double hung replacement windows installed a few months ago!  The wind and dry San Antonio climate have slowly but surely deposited a thin layer of dust on the glass. Ans in every tiny corner of the frame! So how can you keep them clean without it taking up a lot of your time? Or costing you a fortune every time you hire a professional?
Here are 4 window cleaning tips that help you to keep your windows looking brand new:
Window cleaning tip 1.Make your own window cleaning solution!
Start with making your own cleaning solution! The best cleaning solution is 1/4 gallon of warm water, 1 cup of vinegar, and a few drops of dish soap. Mix the cleaning solution in a bucket, and poor some of it into an empty spray bottle! A spray bottle is great to use for smaller windows, a bucket is easier and more handy if you need to clean large windows.
Use professional window cleaner's tools.


Even seen professional window cleaners using cotton cloths or paper to clean windows? Neither have we. They use a microfibre scrubbing pad, a microfibre cloth, a squeegee, an old brush and a bucket or spray bottle with only water to get a perfect result. These tools will help you to clean the windows quickly and easily!

Wipe the windows systematically as the professionals do.

Spray or apply the solution onto the window starting in the top left corner and ending in top bottom right corner. Working in the same pattern, use a wet scrubbing pad to remove the dirt. If it is hard to reach the corners with the pad, try an old small brush to remove the dirt. When the windows were really dirty, rinse the windows with clean water before you wipe and dry the glass with the squeegee. Then use the microfibre cloth to wipe and dry the frames and corners.

Watch the following video if you have single hung or double hung windows.

Manufacturer Simonton Windows & Doors shows in the following video how to easily clean double hung windows. An additional tip: Start with cleaning the inside window first for the perfect results. It is easier to see if you missed a spot on the outside when the inside window is already clean!
Alamo Exteriors has been servicing San Antonio and surrounding areas with their home improvement projects for years. We provide detailed and thorough services in Replacement Home Siding, Replacement Windows and Patios. If you are preparing for your next home improvement project call Alamo Exteriors  or fill out this form. We give free estimates.